An avid reader and a devoted History Channel junkie, Paris can be found most days bent over her keyboard, creating worlds where a wolf shifter saving the woman he loves from a Nazi war criminal is all in a day's work.
A member of Romance Writers of America and published since 2009, she lives in Southeast Kansas with her husband of many years and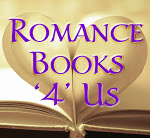 considers a job where she doesn't need to wear pantyhose the best career possible.
Paris is also a regular blogger with Romance Books '4' Us. Visit by clicking the icon and join the fabulous and fun community and contests.